What will you get
Common Amenities
Coin-operated washing machine
Live in House Manager to ensure all guests have a safe and happy stay
Organised house social and community events
2 minute walk to nearest bus stop on Parramatta Roa
10 minute walk to Glebe Point Road's many restaurants, cafés and bars
Less than a 10 minute walk to the University of Sydney
Room Types
Single Room - Shared Bathroom
AU$370 - AU$430/week
Room Amenities
Bed
Desk & Chair
WiFi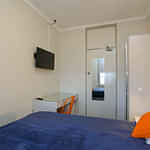 Double / Twin - Shared Bathroom
AU$410 - AU$470/week
Room Amenities
Bed
Desk & Chair
WiFi
About
Double/ twin rooms offer double size beds or single beds, depending on personal preferences. All rooms include linen, free high-speed Wi-Fi, a Smart HD TV, and customised furniture. Double/ twin rooms contain a shared bathroom.
Cancellation Policies (5)
Payment Details
1
Payment
The student has to pay the two-week security deposit and first week's rent and return their lodger documents to confirm the booking. Please note:- the booking will be cancelled if payment is not made within 7 days of booking confirmation....
Frequently Asked Questions
Reviews (3)
4.7
(3 ratings)
Dummy text Dummy text Dummy text Dummy text Dummy text Dummy text Dummy text Dummy text Dummy text Dummy text Dummy text Dummy text Dummy text Dummy text Dummy text Dummy text Dummy text Dummy text Dummy text Dummy text
Dummy text Dummy text Dummy text Dummy text Dummy text Dummy text Dummy text Dummy text Dummy text Dummy text Dummy text Dummy text Dummy text Dummy text Dummy text Dummy text Dummy text Dummy text Dummy text Dummy text
Dummy text Dummy text Dummy text Dummy text Dummy text Dummy text Dummy text Dummy text Dummy text Dummy text Dummy text Dummy text Dummy text Dummy text Dummy text Dummy text Dummy text Dummy text Dummy text Dummy text
Dummy text Dummy text Dummy text Dummy text Dummy text Dummy text Dummy text Dummy text Dummy text Dummy text Dummy text Dummy text Dummy text Dummy text Dummy text Dummy text Dummy text Dummy text Dummy text Dummy text