Room Types
Silver Non-Ensuite Room
£211/week/person
Room Amenities
Small Double Bed
Desk Area
Wardrobe
WiFi
About
This Silver Non-Ensuite Room offers some gorgeous views from your window, with plenty of space too! Sink into your comfy bed and crack on with uni work at your very own study desk with no distractions. With a shared lounge and kitchen area you can chill out with your mates, watch TV, and cook up a storm! You also get 100Mbps WiFi throughout the building, so you can stream to your hearts content, whether it's online shopping or uni work!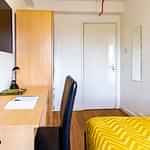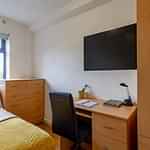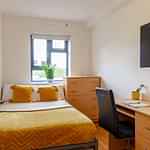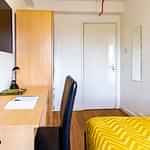 Bronze Non-Ensuite Room
£215/week
Room Amenities
Wardrobe
¾ Bed
Desk & Chair
WiFi
About
Check out cabin style single bedroom, perfect if you want your own space with bags of storage. With a built-in wardrobe and storage unit in the bed, you can really utilise the space youve got! With your very own study desk and 100Mbps WiFi, you can crack on with your studying in peace and chill out later. The Essential Room does what it says on the tin, with everything you need in one cosy room. Youll also get access to the fabulous shared kitchen and bathroom facilities, where you can mingle with your new pals.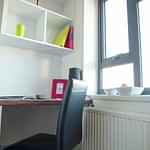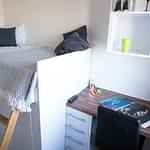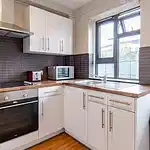 Reviews (10)
4.9
(10 ratings)
Dummy text Dummy text Dummy text Dummy text Dummy text Dummy text Dummy text Dummy text Dummy text Dummy text Dummy text Dummy text Dummy text Dummy text Dummy text Dummy text Dummy text Dummy text Dummy text Dummy text
Dummy text Dummy text Dummy text Dummy text Dummy text Dummy text Dummy text Dummy text Dummy text Dummy text Dummy text Dummy text Dummy text Dummy text Dummy text Dummy text Dummy text Dummy text Dummy text Dummy text
Dummy text Dummy text Dummy text Dummy text Dummy text Dummy text Dummy text Dummy text Dummy text Dummy text Dummy text Dummy text Dummy text Dummy text Dummy text Dummy text Dummy text Dummy text Dummy text Dummy text
Dummy text Dummy text Dummy text Dummy text Dummy text Dummy text Dummy text Dummy text Dummy text Dummy text Dummy text Dummy text Dummy text Dummy text Dummy text Dummy text Dummy text Dummy text Dummy text Dummy text